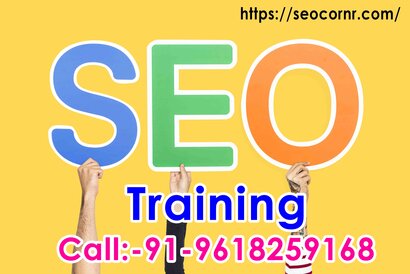 Searching online like who provides the best SEO training in Hyderabad?
Suresh Bursu one of the Best SEO Trainers in Hyderabad with 6+ years of hands-on experience offers Classroom and Online SEO courses with proven 2023 SEO strategies, techniques, and tactics.
What is SEO?
SEO is an abbreviated form of Search Engine Optimization. SEO helps in increasing the visibility of the website on a majority of popular search engines like Google, Bing, etc.,
Two different methods involved in this process are:-
1) On-page optimization – Your website's visibility and traffic increase by using this technique. Here the activities like proper usage of keywords in relevant places, good density of keywords and Meta description, etc., are undertaken to ensure that the website becomes search engine friendly.
2) Off-page optimization – These are the measures taken outside the website with the intention to improve its organic ranking also known as Link Building.
Let's take an example where you want to search for some information about "Top SEO training institutes in Hyderabad Dilsukhnagar". You will put some keywords into the Google search engine and it will offer many pages related to your search query. What you do next is click the first top three websites or look for other websites on page one. If you do not get then you move to the next page, however, there is less likeliness of you visiting pages that rank in 5th position onward.
There is a saying in the SEO Industry that the perfect place to hide a dead body is on the 2nd page of Google search results. So imagine if 100 people like you make the same search every time websites that rank in top positions get the major traffic and lots of leads. Thus website owners get a lot of leads if the pages/posts have the right keywords. So this way SEO increases the visibility of the website.
Who can join our SEO training in Hyderabad?
Anyone who wants to become an SEO expert can join our SEO course training in Hyderabad.
If you're a programmer and even if you are a web developer understanding SEO and getting the working knowledge of SEO will help you to excel in the long run.
Content developers and writers can add more weight to their work if they have appropriate SEO knowledge.
SEO copywriters, small business owners, bloggers, people who do work-from-home moms, freelancers, and journalists too can promote their work effectively using Search Engine Optimization.
What makes us the Best Institute For SEO Training in Hyderabad?
This is a general question everyone gets into their minds because there are many SEO training institutes in Hyderabad, so why should you choose us?
Here are a few reasons:-
Our main strength is our SEO trainer who is well known as "SEO Expert In Hyderabad – Suresh Bursu" for his work and has 6+ years of experience and offers the best SEO training in Hyderabad.

We also offer one-to-one SEO Online training within your flexible timings.

We teach you proven SEO strategies and techniques that no SEO guru will teach you and make you work on real-time SEO projects to get some hands-on experience.
We do offer you 2 months of technical support when you get a job or have any doubts after the completion of the SEO course.
We teach you basic HTML tags
We have successfully trained and placed more than "50+" students.
We offer SEO training with placement in Hyderabad
After taking an SEO Course with us, you will know how to:-
Research, Analyze, and pick your high return on investment keywords.
Do On-page and Off-page optimization SEO techniques.
Attract links to your site to boost your web page rankings in Google SERPs.
Analyze your competitor's web pages to know which keywords are driving the traffic.
Do In-depth SEO audit reports of a website and etc.,
What benefits does this SEO course offer to you?
Get SEO certified and 100% placement assistance
Equip you with a skill to develop an effective digital strategy
Enhances your skill to make a good SEO-friendly website
You will be able to draw traffic to your site with blogging and content marketing
SEO will help in driving organic traffic to your site.
2023 SEO Training Course Syllabus
Introduction to the Internet and Search Engines
What is the Internet?
What is a search engine?
Types of search engines
Why is Google different from other search engines?
Introduction to Marketing & Digital Marketing
What is Marketing?
What is Digital Marketing?
Traditional Marketing vs Digital Marketing (pros and cons)
Modules in Digital Marketing
Learn SEO Basics
What is SEO[Search Engine Optimization]?
Why SEO is the best module in Digital Marketing
Difference between SEO and SEM
Which is better, SEO or PPC?
Why is SEO Hard?
Is SEO Dead In 2023?
Keywords
What are the keywords
What is Keyword research
How to conduct keyword research
Types of keywords
Keyword research tools for SEO
How to choose relevant keywords for our niche
Where to put SEO keywords
keyword density, relevance, prominence?
keyword spamming and stuffing?
Keyword cannibalization?
What are the LSI keywords?
SEO keyword best practices
Basic HTML
What is HTML?
Tags in HTML
Create a simple web page with HTML
Deprecated tags
Essential HTML tags to know for SEO
On page optimization
What is on-page optimization
Title tag optimization
Adding modifiers to the title tag for better CTR
Header tag optimization
URL Optimization
Image tag optimization
Internal linking techniques
Meta tags optimization
Site speed optimization
What is a sitemap? and how to create.
What is a robots.txt file and how to create it?
What is the difference between indexing and crawling?
Using LSI keywords
Google Analytics
What do you mean by analytics
Google Analytics and its alternatives
How to add your site to google analytics
How to track the traffic of your website
Google Analytics tips and tricks
Google webmaster tools or search console
What is the search console?
How to add your site to the search console?
How to check the health of your website?
What can we do in the Search Console?
Off-page optimization
What is off-page optimization?
What are SEO backlinks?
Follow vs no-follow links: What's the difference?
What is link equity?
What is domain authority?
What is anchor text?
What is link building?
Types of link building methods

Directory Submissions
Social Bookmarking
Blog Commenting
Feedback sites
Blog Aggregators
Guest Blogging
Broken link building
Misplaced Link building
Audio Sharing Sites
Roundup posts
Article submissions
Document sharing sites
Press releases
Business Directories
Forum commenting

What is Link Acceleration?
SEO for local business / Local SEO
NAP (Name, Address, Phone number)
Local search engine listings
Reviews (Google+, Yelp and etc.,)
Social signals (FB, Twitter, Google+)
Local link building
Google local business listings
Google Algorithms
Panda
Penguin
EMD update
Pigeon update
Hummingbird
Mobilegeddon
AMP (Accelerated Mobile Pages)
RankBrain
SEO Tools
Google keyword planner
Ubbersuggest
Google Analytics
Search Console
SEMRush
Ahrefs
Google auto-suggestion tool
Screaming Frog
Plagiarism checker tools
Broken link checker tools
SEO Essentials add-on tools
Advanced SEO Concepts
Google Sandbox?
Google Trust, Relevancy, and Authority?
page sculpting?
Will HTTPS affect SEO?
What are breadcrumbs?
What is Google page rank?
What is Link juice?
How to know a backlink is good or bad for SEO
Blackhat SEO and Whitehat SEO?
SEO audit and how to do it?
Competitor Analysis?
200+ search engine ranking factors
How to delete bad backlinks
The future of SEO
Frequently Asked Questions Who Want To Learn SEO
1. What are the prerequisites to learning SEO?
a) Anyone who has the enthusiasm and a strong desire to learn SEO, there is no eligibility like age, gender, or any degree.
2. Can I work as a freelancer after learning SEO?
a) Yes, you can work as a freelancer after completion of the SEO course and you can be your own boss.
Freelance sites: Upwork, Guru, Toptal, Fiverr, etc.,
3. Is there any age limit for learning SEO?
a) No, there is no age limit for learning SEO courses.
4. Job opportunities in SEO in India
a) As you can see everything is getting digital like movie tickets, buying online products and etc., This is the only sign that job opportunities in SEO are plenty.
5. Career options after learning SEO?
a) There are many career options after learning SEO
You can get a job as an SEO professional
You can work as a freelancer
Start your own company and offer SEO services
Start your own website/blog and earn money online
If you are a business owner, you can get your things into digital and sell or offer products or services online through a website by doing SEO.
6. What will be the salary for an SEO fresher in Hyderabad?
a) For freshers, it is a bit hard to hear, Hyderabad SEO companies are not willing or not ready to pay more. The minimum salary for SEO fresher will be 12,000 to 15,000 (per month)
Gradually it can be increased to something like 1Lakh when you are good at SEO, the experience is not a matter.
7. Do you offer placement assistance?
a) We do offer SEO training with placement but not the job guarantee because that is you facing the interview and answering the questions asked by interviewers.
8. Can retired people learn SEO and make money online?
a) Of course yes, retired can do Blogging after Learning SEO and can make money online through advertising platforms like Adsense, Chitika and etc., and can also work as freelancers.
9. Is there any benefit for MBAs learning SEO?
a) Yes, there is added value benefit for Mba's in marketing.
10. Can I do it as a part-time job?
a) Yes, you can but the thing is SEO is a bit time-consuming which is why you should spend a minimum of 2-3 hours a day on a project.
11. Can you teach me SEO in Telugu?
a) Yes, I do teach SEO in Telugu because many are comfortable with Telugu, and also some advanced SEO topics can be understood better in Telugu.
12. Do I need to know the code to do SEO myself?
a) No prior knowledge of coding is required to do SEO, Some advanced SEO tactics need coding No worry we will train you.
13. What is the duration of an SEO course?
a) Duration of the SEO course is 15 to 20 hours.
14. What are the training institutes that provide real-time SEO training in Hyderabad?
a) Many SEO training institutes in Hyderabad say that they provide real-time SEO training but they don't. We provide Real-time SEO training because we do have SEO projects so we will make you do SEO for our client websites/blogs after completion of the SEO course training.
SEO Interview Questions and Answers
So do not comprise and settle for the average, go for the best, join our Top SEO Training Institute in Hyderabad, Dilsukhnagar, and get SEO certified.