Searching for learning SEO Training in Telugu, then you are in the right place. We offer an SEO full course with proven SEO strategies and techniques involved.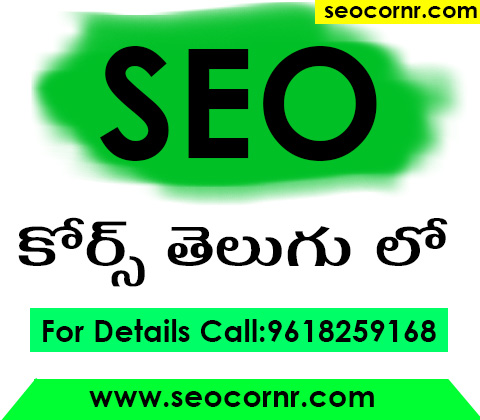 We are good at Training people in SEO because I myself "Suresh Bursu", will teach you In-depth SEO and up-to-date knowledge with the latest updates from major search engines like Google, Bing, and Yahoo.
Why we started SEO Classes in Telugu
We started SEO training in Telugu for many reasons
1) People who came from Telugu medium background.
2) For those who are not good at understanding English.
3) Having love towards our mother tongue.
What is SEO?
SEO stands for Search Engine Optimization. SEO is the art of science of ranking web pages organically for relevant and targetted keyword phrases.
What can you expect from our Telugu SEO training course?
1) You can start your own blog in Telugu.
2) Can work as an SEO freelancer.
3) If you are having your own business, you can apply SEO techniques taught to get new and loyal customers.
4) Call yourself an SEO Professional.
SEO Course Training Syllabus Click Here
FAQ's
1) Prerequisites for Learning SEO?
A) Just basic knowledge of internet concepts, and hard-working nature.
2) Can I run a blog in the Telugu language?
A) Yes, of course, you can run a blog in Telugu because, in the coming years, regional languages blogs will be popular and have more chances of getting high-quality, relevant, and targeted traffic.
3) How much can I earn per month?
A) It depends upon the work you do, I can say that you can get around 10,000(10k) per month as a blogger or work as an SEO junior in a company.
4) Why should I trust you?
A) This is a common question because there are many SEO training institutes and trainers. You should trust us because we have hands-on experience in SEO. we will teach you step-by-step and proven SEO strategies, techniques, and tactics.
5) Will there be a job guarantee or assurance?
A) Yes, there will be job assurance. We cannot give a guarantee because you are the person who gets interviewed by the interviewer.
6) Will there be a refund if I am not satisfied with the training?
A) If you are not satisfied with SEO course training with us, Sorry to say there will be no refund.
We can guarantee that this SEO course in Telugu will be awesome and will try to give you our 100% in training you.